EPUB vs PDF: the Best Two eBook Formats
We all know that eBooks have gained a lot of popularity in recent years with the most common formats of EPUB and PDF. The EPUB file is the most widely-accepted eBook format on the market. In the eBook industry, Apple, Kobo, Barnes & Noble e-readers have all adopted EPUB format. What about PDF? I guess most people aren't strange with it since PDF is not only used for eBook files but it's also widely used for many other electronic copies. However, unfortunately, PDF does not meet the requirements of many eBook publishers. Most of the digital publishers usually prefer EPUB more than PDF files.
Since EPUB and PDF are the two best formats at the frontline of the eBook industry, you must be curious about what are the major differences between them. In this article, we will take a deep look at those key differences between these two formats and then make your best choice.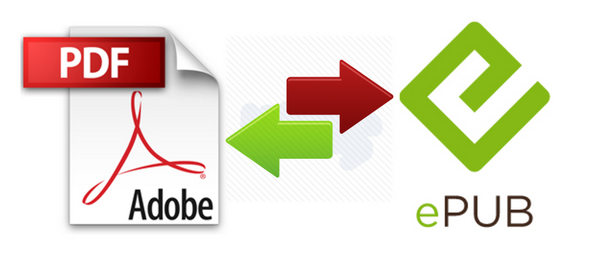 Editing
As we know that some PDF reading tools like Adobe Reader allow you to annotate, make highlights, and some other editing features carried with it. This makes it perfect for sharing documents with others or adding your notes to the eBook you read. On the contrary, EPUB files are usually for reading only, no extra editing allowed.
Viewing Experience
PDF is simply the digital printed document, in other words, instead of reading the paper on your hand, it switches the paper to electronic format, which can be viewed the same as the original file. By contrast, EPUB was created with the "Reflowable document", which defined as the type of electronic document that can adapt its presentation to the output device. For example, if you were reading the PDF file on a tablet or mobile device, you would have to constantly pinch, zoom and scroll horizontally and vertically. But with the EPUB document, it automatically resizes to fit the screen, which exclusively makes reading a lot easier.
Popularity and Accessibility
At the beginning of this article that we stated, we cannot deny that there are way more PDF uses than EPUB. For example, a lot of textbooks and fictions are distributed by PDF format, and we often see that personal resumes are saved in PDF as well. PDF can be opened on most of the electronic readers whereas EPUB is still mainly "focus on" eBook readers. By considering this drawback, PDF provides much more flexibility than EPUB.
How to Convert EPUB to PDF
Have you got your preference after reading the key comparison above? Ever wondered how to convert from one format to another? If you do, please don't leave now as in the following section I will introduce you to an amazing app that helps you converting EPUB to PDF and vice versa.
To convert EPUB to PDF format, a powerful converting tool is required. Here you are recommended to use Any eBook Converter. It is a comprehensive eBook converter including the features of format converting, Meta information editing and more.
Key Features:
Support up to 24 input formats, such as EPUB, PRC, HTMLZ, etc;
Convert eBooks to EPUB, MOBI, PDF, AZW3, TXT or KFX format;
Automatically Scan & Detect eReader;
Save / Edit metadata;
Support the latest version of Windows 10.
Any eBook Converter is able to convert eBooks to PDF or other formats and save them to your local drive with three simple steps, also you can convert the format from one to another. Below is the demonstration of how to use the tool, we use the conversion of EPUB to PDF for this tutorial. Before we get started, please have the program installed on your computer.

Step 1. Upload eBooks with EPUB Format to Any eBook Converter
Launch Any eBook Converter and click "Add eBook" button on the upper left. There will be a pop-up window allowing you to browse and upload the eBooks that you want to convert.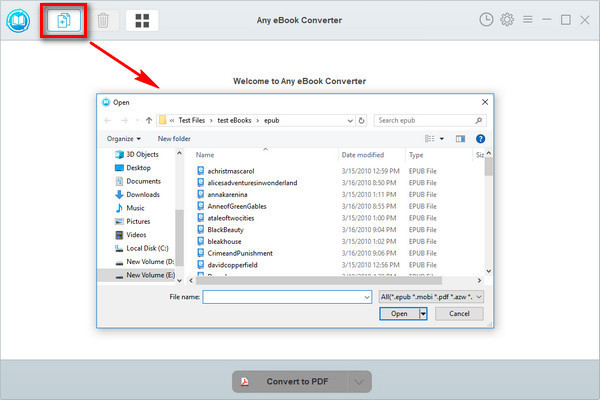 Step 2. Set PDF as Output Format
Click "V" icon on the bottom and select the output format - PDF. Go to "Settings" on the upper right and you can customize the output path folder for the converted books.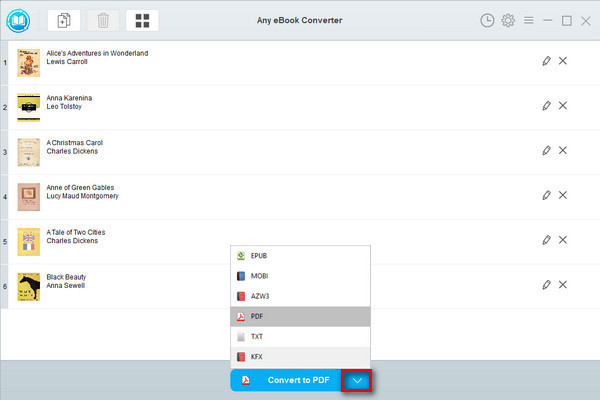 Note: The program retains the original quality for all files and keeps all metadata after conversion. You can also edit any important and useful meta information yourself by clicking the "Edit" icon on the right, including title, author, publisher, etc.
Step 3. Convert EPUB to PDF Format
Click "Convert to PDF" button to start converting your EPUB files to PDF format.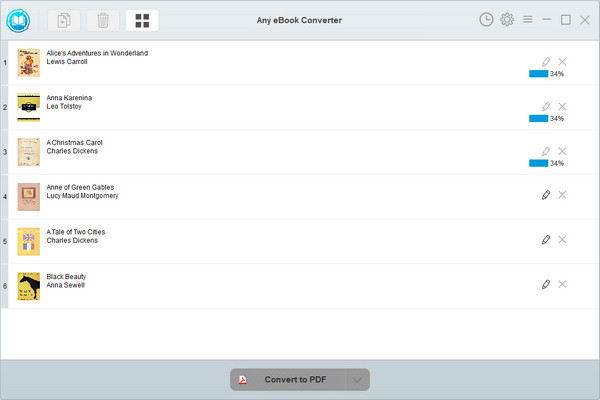 When conversion finishes, you can find the converted files by clicking the "History" on the upper right or go to the output folder directly that you set in previous step.
Now you've converted the EPUB files to PDF format. Take the same steps above if you would like to convert the PDF files to EPUB format, no extra steps needed except to remember selecting the output format to EPUB instead of PDF.
Note: The free trial version of Any eBook Converter can convert one book at a time. Simply purchase the full version if you'd like to convert more books all in once.