Is Reading eBooks Better than Reading Print books?
Even with the rising popularity of eReaders (like Amazon Kindle) and mobile reading apps, print books aren't completely vanishing yet. Print books vs digital books is a long term debate, the topic of 'which one is better" remains controversial. The interesting thing is, the tablet provides people a lot more convenience in reading books, an iPad or Amazon Kindle Paperwhite isn't very expensive for people who have already cost much on paper books, but we can still see many people walking around in a bookstore and purchasing the paper books.
While print books aren't going away anytime soon, you might have a deep thought on that "should I purchase the book from online store (like Amazon Kindle) from now on or keep going to bookstore and grab a whole bunch of paper and store them on the bookshelf home"? The fact is, eBooks do have some distinct benefits where the paper books can never achieve. The following text will show you the major benefits of eBook over paper books by comparing several aspects of them.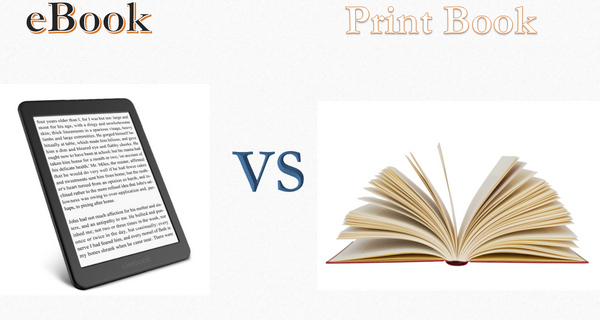 1 Convenience
We must admit that eBooks are instant and convenient. With eBooks, you don't even need to leave your house and go to the bookstore, you can simply purchase them directly from an online service like Amazon Kindle, Nook, or Kobo books and download them instantly to your device.
2 Mobility/Travel
Print books, especially for hardbound editions, can be very tough to carry around, while if you just need an iPad or other tablets for eBooks. If you like to bring books while traveling, particularly if one book is not enough for your trip, the eBook is definitely a lot more convenient than paper books. eBooks allow you to bring a whole library with you wherever you go and you can switch between titles with ease.
3 Price
If you are a serious reader you should be aware that, eBooks are often cheaper than paper books as there are no printing fees associated. Furthermore, you can even find free eBooks on some online sites, whereas physical books will always cost you something.
4 Flexibility
Do not forget that eBooks can be read in the dark. eReaders are backlit, you don't need to have an external light source to read them. For instance, if you are in a public dormitory where other people have fallen asleep, turning the light on to read the paper book might not be a good idea. But for eBooks, as long as your eReader is charged, no other light source is needed at all.
5 Environmental Concern
Protect the natural environment has been a hot topic in the entire world. Approximately 2.2 million books are published each year, which could cause around 3 million trees being cut. Think about this issue, if these paper printed books were to be replaced with digital books, it could save all those trees from being chopped down. Although paper can be recycled, the process of paper recycling itself can cause environmental pollution, because the sludge would be produced in de-inking process. Thus, we must admit that the eBooks are better for the environment as a whole.
6 Font Size
Unlike print books, eBooks allow you to change the font size or even the font style, especially for eBook readers like Kindle devices. If you need words in bigger font size, you can adjust any eBook font to your own preference, but with print books, you are only limited to titles that are available in large print size.
7 Built-in Dictionaries
It can be frustrating when come across a word that you don't understand while reading a print book. You either have to look it up on a physical dictionary or pull up your phone or electronic dictionary to search the definition. But with most modern eReader devices, they normally have built-in dictionaries that allow you to look up words instantly by tapping on any word you don't know, and the dictionary definition will be appeared on the screen immediately, which you never have to stop reading and grab the dictionary to "study for new vocabularies".
8 Substitute
If you have purchased a paper book, but you are away from it and how do you read it somewhere else? The only thing you can do is to purchase it again at an online store and read it "remotely". This is the only way you can turn a print book into an eBook. On the contrary, can you make an eBook to a print book? That sounds very hard as we know that most eBooks sold from the online store are strictly encrypted. But don't be upset! Here we have a great tool that can help you solve this problem, the Any eBook Converter. All you need to do is to convert the eBooks to PDF by using Any eBook Converter, and then you can simply print them out to papers.
Any eBook Converter
Any eBook Converter is a top-rated eBook converter, dedicated to helping users convert eBook files. With built-in innovative converting technology, Any eBook Converter can easily convert eBooks from Nook, Kindle, Adobe, Kobo eBooks to various formats, including EPUB, MOBI, PDF, AZW3, TXT, and KFX.
Support up to 24 input formats including EPUB, PRC, AZW3, etc;
Convert eBooks to EPUB, MOBI, AZW, PDF, TXT, PDF, and other formats;
Automatically Scan & Detect eReader;
Save / Edit metadata;
Support the latest version of Windows 10.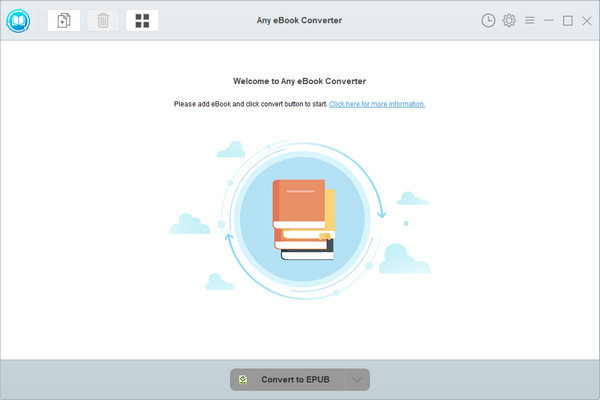 How to Convert eBooks to PDF
Let's get started, first of all, download and install the program on your PC.

Step 1. Upload Your eBooks to Any eBook Converter
Launch Any eBook Converter and click "Add eBook" button on the upper left. There will be a pop-up window allowing you to browse and upload the eBooks that you want to convert, let's select Kindle book as an example.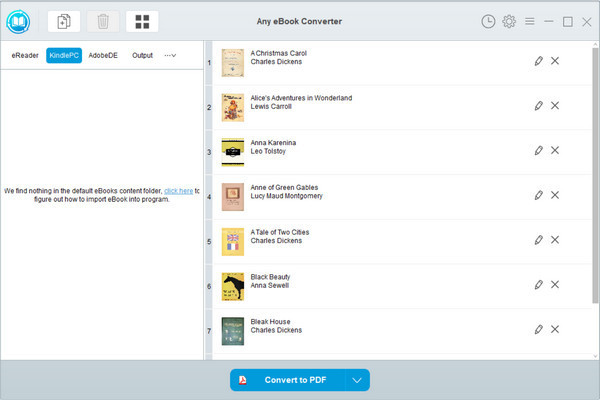 Step 2. Set PDF as Output Format
Click "V" icon on the bottom and select the output format - PDF. You can change the output path folder for the converted books by clicking"Settings" on the upper right,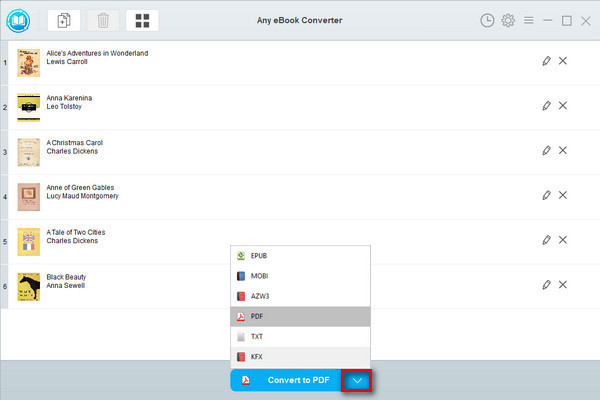 Note: The program retains the original quality of all eBooks and will keep all metadata automatically. You can edit any Meta information which is important to you on your own by clicking the "Edit" icon on the right,
Step 3. Convert eBooks to PDF Format
Click "Convert to PDF" to start converting your eBooks to PDF.
When conversion finishes, you can find the successfully converted files by clicking the "History" on the upper right or go to check them in the output folder you set in the previous step.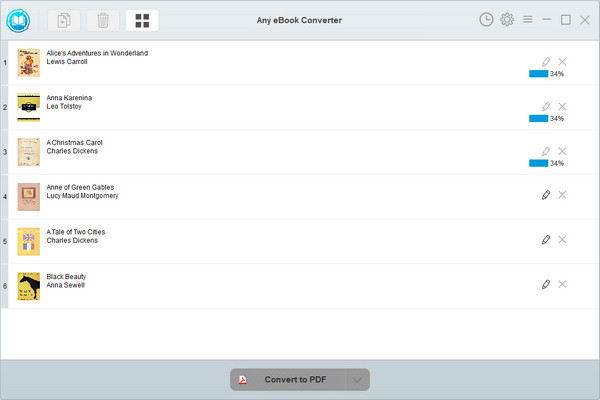 Now you've got your eBooks in PDF format, you can easily print them out and even stick the together as paper book.
To conclude, print books definitely have a traditional value to it, some readers might still find more comfortable in reading physical books than eBooks. But the trend we can see, is that the eBooks are something which will eventually transform the reading and learning experience in the near future. Besides, if you are interested in converting PDF to other fomats, please find more stories in PDFMate.
Note: The free trial version of Any eBook Converter converts one book at a time, remember to purchase the full version for unlimited conversion.