How to Print from Kindle Books
Amazon Kindle is a popular eBook reader. It enables users to browse, buy, download, and read e-books, newspapers, magazines and other digital media via wireless networking to the Kindle Store. As an e-product, it does bring us great convenience, such as we can carry thousands of books in hand at ease, which may make us happier while we are doing some kind of boring things, like taking a bus or standing in line.
Despite of the convenience, there are a great number of readers who would prefer paper books. Some people like the feel of the books while others doesn't like staring at a screen for a long time. Compared to eBooks, paper books are much more expensive. But if you are able to print out books from Kindle, that would be a cost-effective way to have books in hand.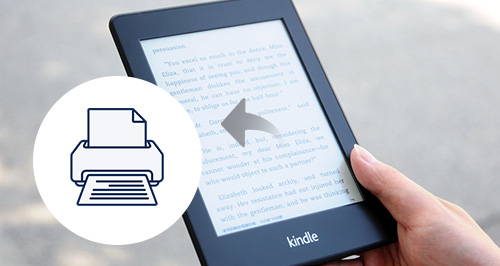 Nevertheless, it seems that Kindle books are not allowed to be printed out. Kindle books are protected in a particular format which can be opened with Kindle for PC/Mac app only. The most disappointing thing is that there is no print button in Kindle app.
Is there any other way to print from Kindle? If you are able to convert Kindle books to PDF, that would be an easy job for you to print them out.
Any eBook Converter
Any eBook Converter is a popular eBook converting tool for converting Adobe/Kindle/Kobo/Nook eBooks to PDF, EPUB, MOBI, AZW3, TXT or KFX format.
The program is able to convert Kindle eBook to PDF format with three simple steps. Below is a full demonstration of converting Kindle books to PDF format with Any eBook Converter. Before we get started, please have the program well installed on your computer.
How to Convert Kindle eBooks to PDF with Any eBook Converter
Step 1. Add Kindle Books to Any eBook Converter
Launch Any eBook Converter, the program will automatically recognize your existent books (synced via Kindle for PC). Drag and drop your Kindle books to the right panel or click the "Add" button to import the books to the program.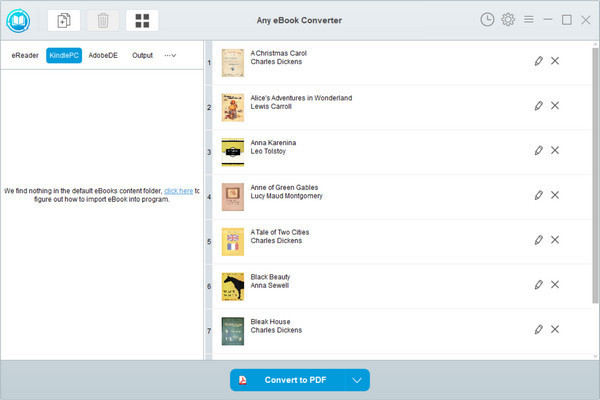 Step 2. Choose PDF as the Output Format
Click "V" icon on the bottom and select "PDF" as the output format. And by clicking the "Settings" button on the upper right, you can customize the output path for the converted books.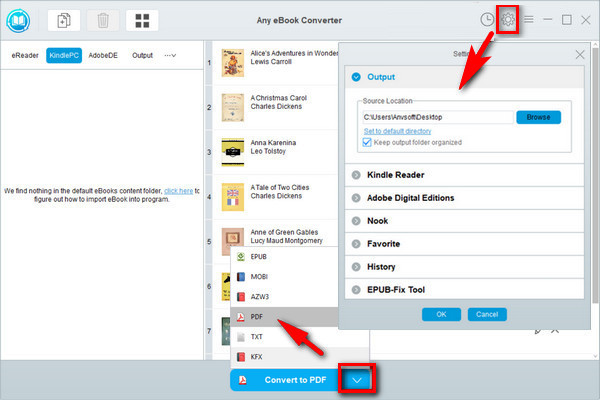 Note: The program retains the original quality of all eBooks and keeps all metadata after conversion. And by clicking the "Edit" icon on the right, you can edit all the important and useful meta information by yourself, including title, author, publisher, etc.
Step 3. Convert Kindle Books to PDF
Click "Convert to PDF" button to start converting the Kindle books to PDF format.
When the conversion is done, you can find the converted PDF files by clicking the "History" button on the upper right or directly going to the output folder you set in previous step.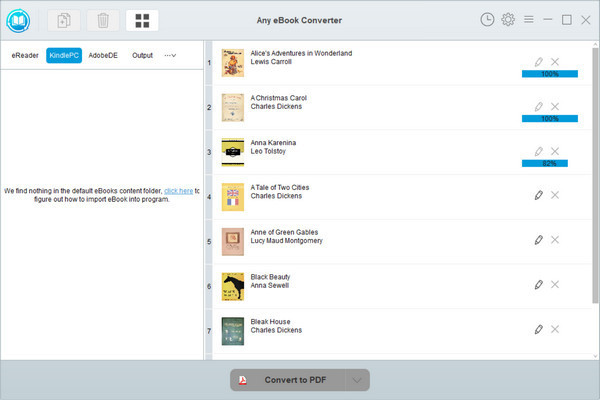 Print Books from Adobe Digital Editions
Now you've got your Kindle books in PDF format, you can open them with ADE to have them printed. Launch ADE, go to File > Print and you can get them all printed out.
Note: The free trial version of Any eBook Converter enables users to convert one book at a time, you can unlock the amount limitation by purchasing the full version.
Summary
Any eBook Converter, the most powerful eBook Converting tool, specially designed for users to convert from Kindle, Adobe, Kobo, Nook eBooks easily and effortlessly. With this powerful eBook Converter, you can read eBooks anywhere you want to make ebook reading a facile enjoyment. How It Works
---