Kindle vs Kobo: Battle of eBook Provider
Amazon Kindle has achieved near total domination in the eBook industry over Kobo Inc. The battle between these two eBook service providers has never ended, Kobo books remain competitive in the eBook market despite the large background of Amazon group. So which one is better and worth to purchase? I believe this has been asked very frequently by users who are new to eBook market. Comparison from price and library storage is not enough to illustrate the information that users need. In this article, we will provide you a detail information between those two brands including their prices, libraries, hardware and software comparisons.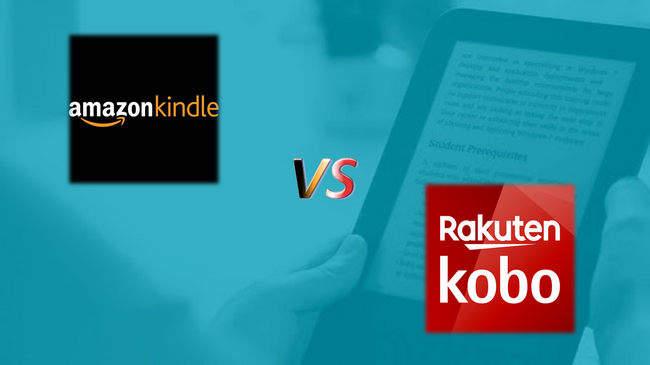 Hardware
If love reading digital books, an e-reader device should never be missed. Amazon Kindle and Kobo both have their own brand of eBook reading device available, and let's take a look at them deeply.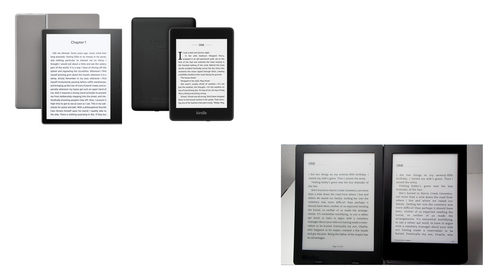 Amazon Kindle Oasis
Amazon released the latest Kindle Oasis this year with a minor revision over the previous model. It's the best Kindle model available now, but also the most expensive one. So what makes it selling at a high price? 7-inch display, a pixel density of 300p Paperwhite display, and the navigation buttons, which all make it perfect for one-handed reading as well as for people who are seeking a comfortable reading experience. If money isn't a problem for you, this must be the most suitable one for you to purchase.
Amazon Kindle Paperwhite
Not everyone wants to spend at nearly $300 toward an eBook reader like Oasis, so Paperwhite could be a good choice by considering the price. This model was released in 2018, it's more affordable compared to Oasis. The highlights of this device include excellent resolution, Bluetooth functionality, and waterproof. The big part is the resolution, 300pixel is surprisingly the same as Oasis display, but much cheaper. It's also waterproof like other more expensive devices, which you cannot miss it. And it's also compatible with Bluetooth connectivity so you can load the audiobooks in your Paperwhite device and listen to them with your wireless headphones. Overall, the Paperwhite has all of the general functions of Amazon's ebook reader, and it is the cheapest Kindle with high resolution and adjustable front light.
Kobo Forma
In addition to the Amazon Kindle devices, Kobo's eBook readers have gained quite a lot of popularity as well. To begin with Kobo Forma, other than Bluetooth and waterproof, the most significant feature must be its 8-inch E Ink screen with 300-pixel resolution and ComfortLight PRO technology, which is perfect for people who love the big screen. Besides, the Kobo Forma is capable of various ebook formats including the downloaded books from Google Play, public library, or elsewhere. And remember the 8GB of storage is another highlight. If you're not deeply embedded in Amazon's system and design, the Kobo Forma is definitely a great choice for an eBook reader.
Kobo Clara HD
The Kobo Clara HD features a gorgeous 6 inch HD screen 300 pixel and an 8GB of storage that allows users to load over 5000 eBooks. Just like the Kobo Forma, it also offers an innovative illumination ComfortLight Pro feature that uses red and orange LEDs to illuminate the screen. Overall, this model isn't waterproof, which you must pay a lot of attention to prevent it from dropping into the water. But the compact size with a lightweight of 166 grams is still an advantage of it.
Software
If you already own a tablet like iPad, there is no need to purchase any extra reading device, all you need is just an application installed, and you will be able to read any books that you bought or borrowed from Amazon or Kobo books.
Kindle Application
The Kindle app provides access to Amazon's massive catalog of books, any books you purchase on Amazon will be automatically reflected in the app. Kindle app is capable of most functions you want from an e-reader including changing the font, background color, highlighting text, making annotations, etc. I can't deny that Kindle has dominated the eBook industry for years, so it is more professional in all aspects of the eBook when compare with the iBook app.
Kobo Application
Compared with Amazon Kindle, Kobo has been quiet in the industry, but its content is abundant. It has more than 6 million titles stored. Besides the eBooks, Kobo also has audiobooks available. Same as Amazon kindle, when you purchase eBooks and audiobooks directly from Kobo, the material will appear in the app automatically. Another highlight is that Kobo Books also has a night mode, this feature makes reading easier for your eyes before going to sleep. In the Kobo app, you can share quotes, notes and discuss books on social media with its integrated social media feature. The app supports numerous formats, such as EPUB, PDF, CBZ, and CBR, and it syncs across devices and platforms with the same account.
Subscription Plans
Kindle offers two types of plan, Kindle Unlimited and Prime Reading, which are both services designed for online digital book reading. The major difference between them is, Kindle Unlimited is an independent digital reading subscription service provided by Amazon, which allows readers to access its extensive library of millions of books with a monthly subscription fee. In contrast, Prime Reading is simply one part of the Amazon Prime membership, which means it is not exclusively designed for online reading, and the number of accessible books is much less than the Kindle Unlimited. However, you must keep in mind that, the list of titles is rotating every month, new titles will be added to Prime Reading and some titles will be gone, which you will not get bored of the same materials.
Price:
Kindle Unlimited costs $9.99 per month, you can access to the millions of titles you want. On the other hand, subscription for Prime Reading is $12.99 per month, but you can enjoy more services other than eBook, such as movies and music streaming, which are all included with the Prime plan.
Kobo Audiobooks
There is only subscription available for audiobooks in Kobo. For your new subscription, you can enjoy first 30 days free trial, which they will send you a credit, you can use it on an audiobook in their catalog, and start listening. Of course, you can cancel it anytime you want. And the monthly fee will cost you $9.99 after trial period and it gets you another credit to use on a new audiobook, regardless of its listed price.
Conclusion
According to the comparison above, apparently the only major difference would be the price. In general, most published books are sold the same price on any online sites. The lucky thing is, Amazon Kindle provides you an alternative choice, which you can borrow the book from it instead of buying and that makes it more flexible. In contrast, except the free books, you can only purchase the books from Kobo.
If you read eBooks from Amazon Kindle or Rakuten Kobo, you should know that the format generated from them is strictly protected. Especially for Amazon Kindle, the format that they use is AZW3, it is an eBook format used exclusively by Amazon's Kindle Store, and also has been the mainstream format to all new items from Kindle store. Because AZW3 is proprietary, it is not as widely supported on e-readers as EPUB. Naturally, all of Amazon's Kindle devices or applications can read the format of AZW3, but it is not supported by some other popular devices such as the Nook and Kobo e-readers. In this case, if you intend to make your Kindle AZW3 files readable on more devices, it's necessary to find a solution to convert these Kindle AZW3 files to a more widely-used format like EPUB or PDF. And luckily we have a powerful tool to help you convert the Kindle files to EPUB format, please keep reading the following tutorial for detailed methods of how to convert Kindle AZW3 book to EPUB format, so that you can enjoy them on more devices.
Any eBook Converter is an all-in-one ebook converter, which converts encoded eBooks to various formats, including EPUB, MOBI, PDF, AZW3, TXT and KFX effortlessly. It's based on high efficiency and easy-to-use interface and supports batch handling. You can convert several eBooks simultaneously. With this powerful eBook converter, you can easily convert Kindle or Kobo eBooks to PDF or EPUB, and read them on more devices without restriction. If you are looking to how to convert eBooks from Amazon Kindle or Kobo books, read the articles Easy Way to Convert Kobo eBooks to PDF and How to Convert Kindle AZW3 to EPUB for more detail.
Key Features of Any eBook Converter
Support up to 24 input formats, such as EPUB, PRC, HTMLZ, etc;
Convert eBooks to EPUB, MOBI, AZW3, PDF, TXT or KFX format;
Automatically Scan & Detect eReader;
Save / Edit metadata, including the author, publisher, etc;
Batch conversion allows you to convert entire eBook collection;
Support the latest version of Windows 10.
Note: The free trial version of Any eBook Converter enables us to convert one book at a time, you can unlock the amount limitation by purchasing the full version.